TREALITY™ has the industry's largest portfolio of simulation visual systems
TREALITY™ has the industry's largest portfolio of simulation visual systems
by Axiom's Edge Pty Ltd on 13/02/2023 12:39 AM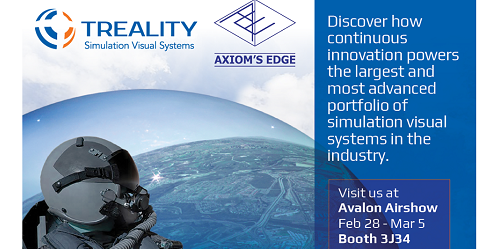 TREALITY™ solutions feature the industry's broadest portfolio of turnkey simulation Visual Display Systems, including 360-degree rear projection displays offering the highest contrast and resolution available on the market, solid (glass) and film mirror collimated displays, and direct projection dome displays providing 270° x 140° fields of view and beyond. Our direct projection solutions also feature a patented deployable display with a roll-up, seamless spherical screen providing 220° x 95° FOV enabling easy deployment and a very compact footprint and optimizing return on investment. All our Visual Display Systems are equipped with TREALITY's cutting-edge multi projector systems tools that allow you to reliably operate and maintain your visual systems at a touch of the button.
TREALITY Simulation Visual Systems together with it's local partner AxiomsEdge wants to invite you to our booth 3J34 Hall 3 at Avalon Airshow 2023.
Get a glimpse of the future with our new collimated display technology
It is our mission to be at the forefront of innovation for Visual Display Systems, developing new technologies that drive visual system performance and lower total cost of ownership. Visit us to learn about our latest collimated display breakthroughs.
See what is new with our Front-Projected SEER domes and rear projected RP-domes
The latest generation of SEER domes and RP-domes are designed with efficiency in mind and offer substantial improvements in performance and footprint while providing significant operational cost reductions. Schedule your visit and allow our experts to present our latest development efforts.
We are Visual Display System MRO Experts
TREALITY™ SVS provides superior maintenance, repair, and overhaul (MRO) support to address projector upgrades (including mechanical redesign and auto alignment), reskinning film collimated display mirrors, and upgrading back projection screens. TREALITY™ SVS manages the entire life cycle of the Visual Display System from design to aftermarket, with particular emphasis on improving visual performance, improving operational availability, and reducing sustainment costs. Come see how we can optimize or upgrade your simulator and extend its lifetime.
To learn more about our solutions and services visit www.TREALITYSVS.com
Comments
LEAVE YOUR COMMENT