Ensure resilience across multi-domain operations with Calnex network emulators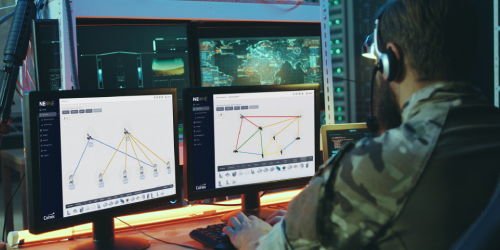 Presented by CoverTel - Your Trusted Ally
The success of military operations depends on the ability to successfully share data across various domains including land, air, sea, space and cyberspace. As such, Multi-Domain Operations (MDO) are emerging as a critical component in achieving effective decision-making and mission execution.
So, it is vital to rigorously assess the performance and resilience of applications and devices that need to operate in a MDO environment. A key asset in achieving this capability is the Calnex NE-ONE Network Emulator, which accurately replicates a wide range real-world network environments within a safe, repeatable and controllable setting where comprehensive performance and resilience testing can be carried out before deployment into live military networks.
Subjecting applications and devices to such tests provides defence organisations and prime contractors with insights into whether their systems can perform and adapt under challenging network conditions or require re-engineering in order to ensure they are truly Network Ready and fully able to support troops in the field.
With their ability to accurately simulate network parameters such as bandwidth, latency, packet loss and congestion, Calnex Network Emulators enable you to:
✔ Reduce the need for expensive live field trials
✔ Replicate complete Multi-Domain networks
✔ Model multiple international communication links
✔ Apply impairments & mimic hostile interference
✔ Identify networked military application limitations
✔ Validate network device performance up to 100Gbps
Trusted by governments, military organisations and prime contractors around the world, Calnex Network Emulators provide a tactical competitive advantage in understanding your applications and systems' performance under the harshest network conditions, ensuring success in outmaneuvering your adversaries.
Contact CoverTel today to discover the power of using Calnex Network Emulators to mitigate the risk of application deployment failure in government and military network environments.
Time is of the essence! Every moment you hesitate, your adversaries grow stronger. For more information and the gateway to a new era of dominance, visit https://www.covertel.com.au/ne-one
Comments
LEAVE YOUR COMMENT