DMG MORI – global innovation leader in metal cutting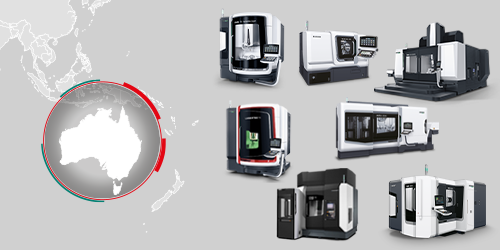 DMG MORI - your turning and milling machine partner
The DMG MORI group is one of the largest manufacturers of metal cutting machines and a leading global manufacturer of CNC-controlled Turning centres and Milling machines.
We are active all over the world and offer you everything from a single source: machine tools both new and old, trainings programs, accessories, maintenance and servicing and unique software solutions.

DMG MORI - turning machines
Regardless of whether they are for use in the automobile industry, engineering, medical technology or other manufacturing and production applications in metalworking: lathes are needed everywhere turned parts are manufactured. DMG MORI can provide you with the most up-to-date, high-performance, and innovative CNC turning machines in the design you need for your production. This is made possible by our modular system with high-tech components that can be adapted to meet your individual requirements. To ensure that your machines can be operated seamlessly, we provide you with a service package you can rely on day and night.
Our turning machines - the benefits for you
High-performance, flexible, and easy-to-operate lathes
Different sizes, shapes and features
Individual configuration to meet your specific requirements
Automated and digitalised production
Around the clock service
Spindlereplacement within 24 hours or repair
In 96 per cent of cases, replacement parts are available immediately
DMG MORI - milling machines
Milling machines are indispensable for industrial production. At DMG MORI, the world leading manufacturer of machine tools, not only will you find tailor-made milling machines but also an end-to-end solution designed to meet your needs along with our comprehensive range of services - and all this for the entire lifecycle of your machine. Our milling machines guarantee the highest standard of technology. So, increase your productivity with machine tools from DMG MORI.

Our milling machines - the benefits for you
Coverage of the entire range of CNC-controlled milling machines, from 3-axis to 5-axis machining
Unique monoBLOCK / duoBLOCK design
Machines in travelling column, portal and gantry models
Milling heads and replacements available in vertical, A-axis, B-axis or angular formats
The paths of x, y and z-axes up to 6,000mm for workpieces up to 120t
High-performance MASTER spindles with 3-year guarantee
Compatible with working materials of all degrees of hardness
Linear actuators with 5-year guarantee for optimal performance, the highest quality finish and the greatest long-term precision
Optimal accessibility and visibility of the work area

Round-the-clock hotline, 24 hours a day, 7 days a week
Professional inspection by our highly qualified DMG MORI service technicians
Complete servicing at regular intervals via maintenance checklist
Free registration at myDMGMORI.com

For additional information please visit https://au.dmgmori.com/company/contact
Comments
LEAVE YOUR COMMENT