Diamond Defence's MilSpec expanded beam fibre optic connectors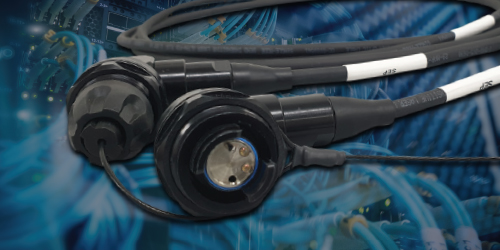 Diamond Defence's Expanded Beam Fibre Optic Connectors are designed to meet the requirements of MIL-PRF-83526/20 & /21 Military Specifications. Expanded Beam fibre optic connectors are designed to operate in harsh environments, they use non-physical contact fibre optic termini that are fully sealed behind an anti-reflective coated ball lens.
This lens expands the beam to many times its original size aiding optical alignment and minimizing the effects of dust, debris, vibration, and other environmental conditions. Because there is no wear on the optical surfaces / end faces of the termini during use, the connector has excellent durability, in excess of 3,000 mating cycles, providing a long service life interconnect solution.
It is a hermaphroditic connector allowing multiple plug-to-plug cable assemblies to be combined to extend the length of the system. These connectors are available with options ranging between 1 to 24 channels and with either singlemode or multimode fibre. In addition to the standard plugs and receptacles, Diamond Defence offers a 90 Degree option for plugs/receptacles and a Low Profile Backshell for receptacles for applications with space constraints.
The Diamond Defence Expanded Beam Connectors are used in many harsh environment applications which include Defence, Mining and Aerospace to name a few.
· 2Ch – 24Ch Hermaphroditic Expanded Beam Connector System
· Plugs: With and without Rubber Grip, with Straight or 90 Degree Backshell
· Receptacles: Jam Nut, Flange Mount, and XLR Compatible Flange Mount, with or without Backshells
· Standard Cable OD up to 7.5mm, Extended Heat Shrink Strain Relief up to 10.5mm
· Designed to MIL-DTL-83526/20 (Plug) & MIL-DTL-83526/21 (Jam Nut Receptacle)
· Intermateability with other MIL-PRF-83526/20 & /21 expanded beam connectors.
· Sealed to IP68
Diamond Defence's commitment to sovereign capability, as well as its track record in delivering excellence in locally designed and manufactured cable assemblies, reaffirms the company's position as a trusted partner to the Australian defence industry.
For additional information please visit www.diamond-defence.com
Comments
LEAVE YOUR COMMENT