Amiga Metal 3D; your cutting-edge 3D metal solution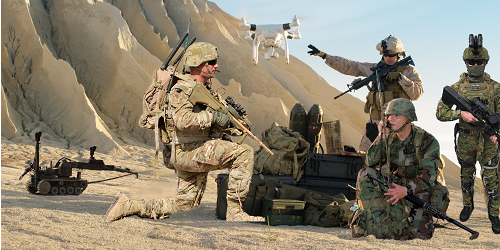 In Military, developing the right equipment can be a matter of life and death. Additive Manufacturing, or Metal 3D Printing, offers swift production that allows rapid and enhanced testing; to deliver more reliable components that can be used in any military application.
Additive Manufacturing allows custom bespoke designs that were never thought possible via traditional manufacturing methods. Thin wall sections and intricate cooling channels are perfect for metal 3d printing. Heat exchangers and nozzles are fast and effectively printed in a matter of hours instead of weeks.
This advancement in manufacturing allows military equipment to have the least down-time possible.
Capabilities of printing in 30µm or 60µm provides the option of finish required to suit the application. For high quality, non-porous and/or a smooth finish, 30µm is perfect.
Cutting edge technology gives our soldiers a crucial advantage on the battle field. Additive Manufacturing is being used in a large range of military applications; from state-of-the-art weaponry, armour and components, to high-tech surveillance drones. Additive Manufacturing gives high-speed part turn around as well as the ability to develop and adapt components to the military environment.
Amiga Engineering™ Pty Ltd is the only company in Australia providing Metal 3D Printing, CNC Machining, Fabrication, Industrial Gearboxes, Polymer 3d Printing and 3d Printing equipment sales; all in the one location. The company's Quality Management System is certified to ISO 9001:2015. Assuring to AS 9100 for Aerospace and Defence.
Exceptional services include:
Working with clients closely to provide a high standard solution
Reverse Engineering to recreate existing componentry
Pride in quality, workmanship and support
Expert staff with over ten years in the Additive Manufacturing industry
Light weight component manufacture
Thin wall parts
Complex part geometry
Internal/external lattice design capability to keep integrity and strength
Metal 3d Printing Materials available:
Titanium Grade 23
316 Stainless Steel
Aluminium
H13 Tool Steel
Inconel 718
Polymer 3d Printing Materials available:
Figure 4 Modular printer: Hi Temp 300-AMB, Med-AMB10, Pro-BLK10, Rubber-BLK10, Tough-BLK20, Eggshell-AMB10, Flex-BLK20, Flex-BLK10, Tough-GRY15, Elast-BLK10, Tough-GRY10
Fab Pro 1000 printer: Proto-GRY, Tough-BLK
ProX SLS 6100 printer: ProX EX BLK (SLS), ProX PA (SLS), ProX HST Composite (SLS), ProX EX NAT (SLS), ProX FR1200 (SLS), ProX AF+ (SLS), ProX PA (SLS), ProX GF (SLS)
Benefits of choosing Amiga Engineering as your manufacturer:
Quick turnaround – especially for breakdown and emergency situations are part and parcel of our ability to service whenever it is required
The manufacturing and sales office located in Tullamarine, Victoria, Amiga is perfectly situated minutes away from air, road and sea transport
The only company in Australia providing Additive Manufacturing with post processing capabilities in the same location
Versatile machining/fabrication abilities in-house provides a large capability available
Acceptance of one off orders and customisations as well as production runs
Amiga Engineering™ Pty Ltd provide exceptional and expert staff with over ten years in the Additive Manufacturing industry. Amiga Engineering™ Pty Ltd proudly and comprehensively have the expertise and knowledge to provide the customer solutions to all additive manufacturing needs. The company prides itself on quality, workmanship and provides service and support every step of the way. Amiga Engineering™ Pty Ltd work closely with the client to provide these solutions to a constant high standard.
The company, puts their many years of experience to use; providing services ranging from individual part to large scale production, including all production needs in between. Attention, care, detail and workmanship are key throughout the entire process.
For more information visit http://metal3d.com.au/defence
Comments
LEAVE YOUR COMMENT