News

/

Royal New Zealand Navy commissions HMNZS Aotearoa Polar-class support vessel
Royal New Zealand Navy commissions HMNZS Aotearoa Polar-class support vessel
by ANZDD on 31-Jul-2020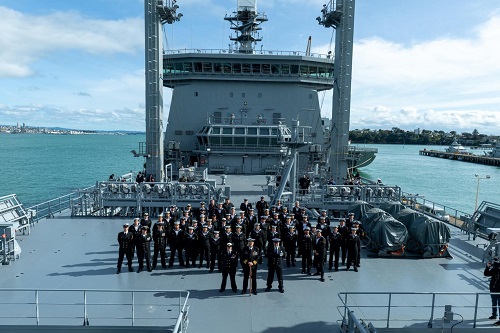 The Royal New Zealand Navy commissioned the HMNZS Aotearoa, the service's new fleet tanker and sustainment vessel. A commissioning ceremony was held today during which Captain Simon Rooke officially took command of the ship.
"In attendance at the ceremony was ship sponsor Her Excellency the Governor-General of New Zealand the Rt Hon Dame Patsy Reddy and a host of other dignitaries all there to see Aotearoa welcomed formally to the fleet," the NZ Defence Force said.
After a short period of specialist equipment fit-out, HMNZS Aotearoa will conduct sea trials before embarking on a series of port visits which will include a very special one to her Home Port of New Plymouth later this year.
At 173m long, the HMNZS Aotearoa is the largest ship the RNZN have ever had in the fleet. The vessel carries 9,500 tonnes of fuel enough to 'fill up' a frigate like the HMNZS TE MANA or TE KAHA 13.87 times. And she is able to carry and operate a RNZAF NH90 helicopter.
She is the first ship to use the Rolls Royce's Environship design, which includes a new wave-piercing hull for reduced resistance and fuel consumption. Capability features ice-strengthening and 'winterisation' for operations in Antarctica. The HMNZS Aotearoa sensors package includes a Farsounder-1000 sonar and SharpEye S and X-Band navigation radars. The two Bergen Main Engines allow a maximum speed of 16 knots and a range of about 6,400 nm.
Source: Naval News
Comments
LEAVE YOUR COMMENT