News

/

RNZN's future hydrography ship arrives in New Zealand
RNZN's future hydrography ship arrives in New Zealand
by ANZDD on 23-May-2019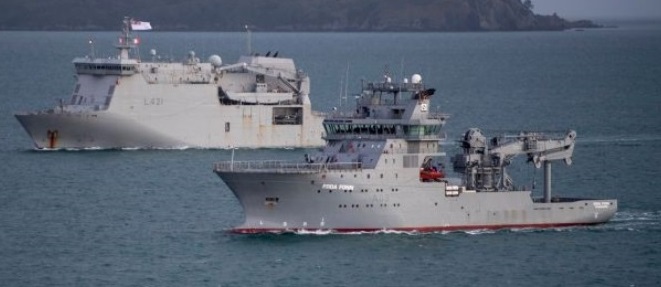 The Royal New Zealand Navy's (RNZN's) future hydrographic and diving support vessel has arrived in New Zealand following a 46 day-long journey from Denmark.
The service announced in mid-May that the 84.7 m-long vessel, which will be known as HMNZS Manawanui once commissioned, sailed into Wellington Harbour on 12 May after leaving the Danish port of Frederikshavn on her delivery voyage to New Zealand via the Panama Canal: a distance of 11,570 n miles (21,427 km).
The vessel, which is expected to be officially commissioned in early June during a ceremony at the Devonport Naval Base, is set to be home-ported at Gisborne on New Zealand's North Island.
In February the vessel arrived in Denmark from Norway to be fitted out and conduct subsequent sea trials according to RNZN requirements.
The ship, which had previously been in service as a commercial offshore support vessel known as Edda Fonn , was acquired by New Zealand in 2018 for NZD103 million (USD67.3 million) to fulfil operational gaps in the RNZN's diving support and maritime survey capabilities following the retirement of the service᾿s hydrographic ship HMNZS Resolution in 2012 and of dive tender HMNZS Manawanu i in 2018, as Jane's reported.
The vessel has an overall beam of 18 m, a hull draught of 6.3 m, and is equipped with a 100-tonne salvage crane. Powered by four diesel-electric engines driving two azimuth propulsion systems, the 5,700-tonne vessel can reach a top speed of 13 kt.
The vessel, which is also fitted with a diving chamber and a helicopter flight deck, can accommodate a core crew of 39, with 27 more bunks for mission-specific personnel.
Source: Janes
Comments
LEAVE YOUR COMMENT