News

/

Hanwha to deliver next generation infantry fighting vehicles for Australia
Hanwha to deliver next generation infantry fighting vehicles for Australia
by ANZDD on 27-Jul-2023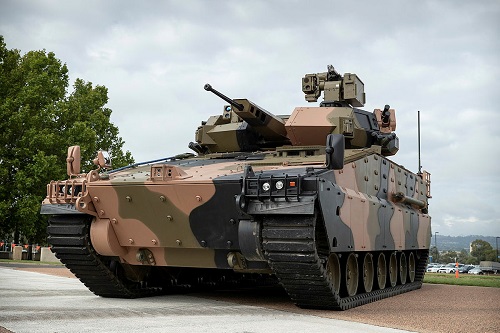 The Australian Government has selected Hanwha Defense Australia as the preferred tenderer to deliver 129 infantry fighting vehicles to the Australian Army, as part of a major transformation of the Army in response to Australia's changing strategic environment.
The Government has also decided that the new vehicles will be built in Australia at Hanwha's facilities in the Geelong region.
Building the vehicles locally will support thousands of high-skilled jobs, provide a significant economic boost to around 100 Australian defence industry companies and support Australia's strategic imperative to develop sovereign defence manufacturing capabilities.
The LAND 400 Phase 3 project will have a value of between $5 billion and $7 billion, making it one of the largest capability acquisition projects in the history of the Army.
The project will deliver Hanwha's state of the art Redback infantry fighting vehicles that will provide high level protection and mobility for soldiers. The new vehicles will replace Defence's M113 armoured personnel carriers which were acquired in 1964.
The Government is accelerating this acquisition so that the first vehicle will be delivered in early 2027, two years earlier than the former Government had planned. The final vehicle will be delivered by late 2028.
With its latest generation armour, cannon and missiles, the Redback vehicle will provide the protection, mobility and firepower required to transport and protect soldiers in close combat, giving them the highest chance of achieving their mission and returning home safely.
The acquisition of these infantry fighting vehicles is part of the Government's drive to modernise the Australian Army to ensure it can respond to the most demanding land challenges in our region.
Significantly, the infantry fighting vehicles will be delivered at around the same time as the new HIMARS missile systems and Army Landing Craft – reflecting the Defence Strategic Review's call for Army to be transformed for littoral manoeuvre operations from Australia.
The acquisition also reflects the Defence Strategic Review's assessment that 129 infantry fighting vehicles is the appropriate number for Australia's future strategic environment.
This decision demonstrates how the Albanese Government is providing the Australian Defence Force with the capabilities it needs to defend Australia and protect our national security.
Defence will now enter negotiations with the preferred tenderer and return to Government for final approval before the contract is finalised.
Quotes attributable to Minister for Defence Industry, Pat Conroy:
"The Albanese Government is deeply committed to investing in the security of our nation and the safety of Australian soldiers.
"We are also committed to supporting Australian defence industry so we can make more of the critical defence equipment we need in this country rather than relying on overseas suppliers.
"Our decision to build the Redback infantry fighting vehicles in Australia will support up to 600 direct jobs and more than a thousand jobs in the Australian industry supply chain.
"I would like to thank both Hanwha Defense Australia and Rheinmetall Defence Australia for their highly professional participation in the extensive and thorough process of selecting Australia's new infantry fighting vehicle."
Source: Defence Media
Comments
LEAVE YOUR COMMENT