The Humanihut Field Infrastructure System; award winning infrastructure to support defence operations
The Humanihut Field Infrastructure System; award winning infrastructure to support defence operations
by Humanihut Pty Ltd on 20/05/2022 1:50 AM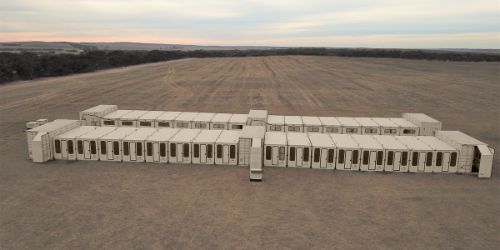 Designed to withstand harsh climatic conditions, the Humanihut Field Infrastructure System ("HFIS") provides climate-controlled comfort for communications, recreational/mess, storage, and accommodation/living facilities to support defence personnel.
Humanihut is a multi-award winning Australian company. Founded on the concept of supporting those in need in a humanitarian crisis, the HFIS was invented, developed and designed in Australia, and its capability has expanded into Defence, emergency services and remote worker camps.
What sets the Humanihut Field Infrastructure System apart from its competitors is its unique, rigid, folding-wall, pop-up design, which allows up to eight "flat-packed" huts to be transported to a site in a single, customised shipping container. And, with all components including furniture, accessories, power generation, and necessary utilities integrated for rapid deployment, redeployment, and establishment, the HFIS can operate independently from mains water, power, or wastewater infrastructure.
Suitable for short, medium, or long-term use, and with the ability to redeploy as many times as required throughout its 20-year lifespan, the HFIS provides a versatile, scalable infrastructure solution to meet ADF operational requirements, proving to be more cost-effective than alternatives such as prefabricated buildings or tents. With rapid set-up and pack-up, the HFIS provides a superior level of accommodation/living conditions when compared with current industry standards.
The HFIS has been specifically designed and engineered to meet Defence's operational, safety and environmental obligations. For environmental control and protection for harsh climatic conditions, the UV stabilised wall and ceiling panels are constructed from Colourbond steel coated high-density foam core insulation, and powder-coated aluminium frames provide superior quality and longevity of the structures is assured.
With a steel and marine-grade plywood base, each hut is solid skinned, climate-controlled, and thermally insulated throughout to R1.0-1.5 rating, ensuring maximum energy efficiency. Able to be established on a greenfield site or hard standing, the HFIS has minimal impact on the environment. When no longer required, the HFIS can be removed from site, leaving a limited, easily remediated footprint.
The HFIS is a generational leap forward for appropriate accommodation to support ADF members and Defence staff in both domestic and offshore operations. The HFIS is a significant capability to support the ADF in Defence Assistance to the Civil Community during times of natural disaster or significant national activities. The level of comfort and safety in comparison to tented accommodation is significant. The innovative design of huts/modules being flat-packed into a container allows the advantages of a solid skinned structure, with a greatly reduced logistical burden.
With military and commercial land, air, rail, or sea capability, the HFIS is deployed directly to the required site worldwide and can be customised to suit operational requirements, for example:
Accommodation/living facilities
Office/meeting/briefing rooms
Communications/logistics facilities
Storage facilities that offer UV protection and insulation for IT and other valuable equipment
Recreational/mess facilities
Bathroom facilities with laundry or toilet facilities as an option
Security checkpoints
Medical facilities; from a small treatment facility to a fully deployed field hospital.
A simple "click and connect" system means no actual construction is required on-site. For example, "The Basecamp", which comprises 32 huts and six bathrooms, can accommodate up to 128 ADF personnel and be established in as little as 5-7 hours. When deployed to Kangaroo Island during the 2019/2020 Black Summer Bushfires, ADF personnel, untrained on the HFIS, assisted the South Australian State Emergency Service to redeploy the HFIS when it came under ember attack, proving just how easy it is to establish with minimal training and no prior knowledge of the system. Deployment Teams can be trained in as little as two to three days.
The HFIS can provide a vital element of the ADF's Combat Service Support (CSS) capability and delivers a modular and scalable operational infrastructure system to provide timely support to deployed JTF elements. And, with suitable ballistic protection, the HFIS can provide the ADF with threat-appropriate infrastructure in support of the full range of military operations.
The innovative design and engineering of the Humanihut Field Infrastructure System saw it included on the 2016 Disrupt 100 list and acclaimed as a future market leader. And, in November 2020, the HFIS was awarded the Estate & Infrastructure Business of the Year at the Defence Connect Australian Defence Industry Awards.
Humanihut Pty Ltd supports the Australian Defence Force by maintaining open lines of communication, working collaboratively with supporting and supported coalition partners, meeting priorities, and delivering a versatile, scalable infrastructure solution that exceeds expectations; operationally, financially, and environmentally.
Humanihut aims for a sustainable and enduring domestic capability to support our key military capabilities and ensure that the Australian Defence Force (ADF) is equipped and supported through an efficient and capable domestic industrial base. Humanihut has significant Australian Industry Content (AIC) that will increase as the company expands.
In summary, the HFIS offers the following:
Quick to deploy and redeploy
Transportable by sea, air, or land
Prepared for Rapid Onset Response
More cost-effective than alternatives over its 20-year lifespan
Able to be deployed close to incidents
Allows shift workers the opportunity to sleep during the day
No construction required; simple "click and connect" assembly
Quick to train a Deployment Team
Fully integrated services
Logistically efficient
Environmentally responsible
Agile, scalable, flexible, and secure
Assured Industry Response, with the initiative to increase over time
An Australian-owned company.
For more information on the HFIS, please visit the website at https://www.humanihut.com/defence.
Comments
LEAVE YOUR COMMENT