TGI Cargo deliver defence logistics globally
TGI Cargo deliver defence logistics globally
by TGI Cargo on 31/10/2022 4:36 AM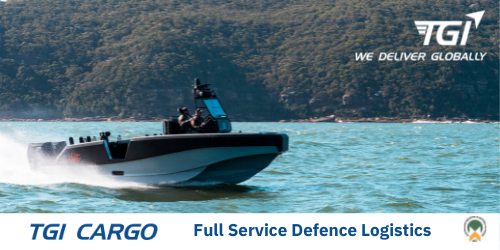 TGI is a specialised defence logistics freight forwarder, with rapid deployment capability across land, air & sea. We deliver globally, including 24/7 live tracking through Key Options, and plan and coordinate charter, DG & specialised equipment transport.
TGI Cargo and TGI Shipping Agency are 100% sovereign Australian owned logistics companies that provide integral Defence transport capacity globally. We have successfully delivered oversize equipment in war zones and in our over 20 year history we have never lost a shipment.
As an agile Australian freight company, we have found that we can outmanoeuvre and outperform other international logistics specialists, because our team is a hands on rather than hand over team. We love what we do, we have a wealth of experience, and we know how to move anything anywhere, better than almost anyone, professionally, on time and on budget.
Our experience has led us to offer a number of valued additions to your logistics service, for seamless, daily coordination of defence movements globally.
ITAR Compliant
Security Accreditation
Dangerous Goods
Biosecurity
Member AIDN
Integrated Logistic Support involvement
Insurance
Risk mitigation
We are invested in the ability to provide both National and State Government acquisition agencies to design and immediately action through life support models that meet unique needs anywhere in the world. Australian offices in Canberra, Brisbane, Melbourne and Perth.
For more information contact Peter Townley and the TGI Defence team.via www.tgicargo.com or [email protected]
Comments
LEAVE YOUR COMMENT