Simultech's Climatic Test Chambers; helping guarantee your products won't fail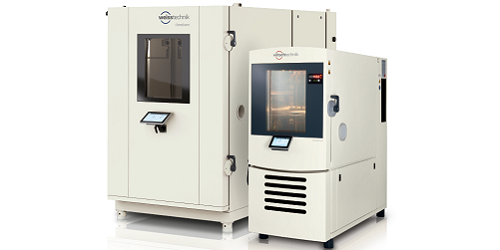 Seasonal differences and different climatic zones – your products must be able to withstand a variety of temperatures, humidities, altitudes and other conditions during manufacturing, transport, storage and use. This is particularly the case for products used by Defence, as a manufacturer of high-tech products, you simply can't afford to take the chance of having it fail in the field, as the consequences can be severe.
Simultech Australia distribute the Weisstechnik® Climate Test Chambers which help you to test the influence of temperature and humidity on the properties, function and lifespan of your products. Reproducible, certified and under accelerated conditions.
Weisstechnik® Climate Test Chambers, set the standard in the fields of performance, future-proofing and usability. A new refrigerant used in our ClimeEvent chamber is one example, this refrigerant exceeds tomorrow's standards today, ensuring high future-proofness, making ClimeEvent extremely eco- and user-friendly. All chambers use optimised air guidance that delivers best-in-class performance. The innovative WEBSeason® user interface allows you to program, control and monitor your tests at any time and anywhere – even from your tablet or smartphone.
The decision to purchase a Climatic Test Chamber should be made with confidence which is why all of our chambers are installed and commissioned by Simultech's technical team as part of the total package price. However, for true peace of mind, choose a maintenance contract from Simultech. You will be contacted a few days before the chamber is due to be serviced by one of our technical team to arrange its service. Our technicians are all factory trained at Weisstechnik and we only use genuine parts. This will ensure years of reliable service from your chamber.
For additional info please visit www.simultech.com.au
Comments
LEAVE YOUR COMMENT