Simplex shaft components for defence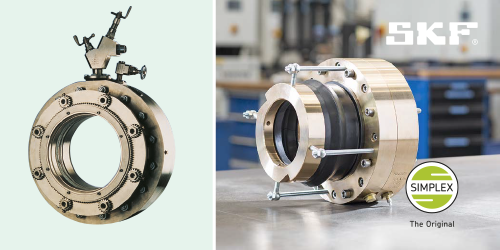 Simplex shaft components
The Simplex brand has been synonymous with maximum quality and cutting edge technology in the field of shaft components since 1948. We are represented internationally and our portfolio of products is used in applications on all common ship types throughout the world – whether new builds, conversions or for spare part requirements.
Selected Simplex sealing solutions for naval vessels
Simplan fwd seal
At SKF Marine we have developed the ultimate seal for water-lubricated sterntubes. The utilisation of unique, state-of-the-art material combinations and the expertise gained through over 60 years of experience has resulted in the SIMPLAN shaft seal.
With our SIMPLAN seals we offer a unique combination of SiC "hard against hard" sealing faces. We have developed materials for the seal which are unaffected by even the hardest sands or sediments. The durability of these sealing rings exceeds the operation lifetime of conventional sealing rings by far.
Carboplan Plus submarine seal
The Carboplan Plus is a mechanical face-type seal for water-lubricated sterntubes. It was developed to fulfil the highest standards in terms of quality and durability. This seal has been used internationally in the submarines of several navies since 1984. Every demand made on this type of product such as resistance to shock, vibration, pressure and corrosion, as well as ease of maintenance and repair is fully met by the Carboplan Plus.

About SKF Marine
The Simplex brand is part of the SKF Marine product portfolio. SKF Marine has been in the marine industry for more than 70 years, applying innovative thinking and expertise to critical machinery. SKF Marine products and services apply to many areas of a ship, making us a valued system and services engineering partner for designers, builders, operators and system suppliers.
In addition to shaft components, SKF Marine develops, produces and sells stabilizers, couplings, lubrication systems, condition monitoring and condition-based maintenance solutions, bilge water separators, environmental monitoring systems as well as special services.
To find out more about our complete product portfolio, please visit https://bit.ly/SKF_simplex
Comments
LEAVE YOUR COMMENT