Santova: your clear logistics choice for mission critical defence projects
Santova: your clear logistics choice for mission critical defence projects
by Santova Logistics Pty Ltd on 26/09/2017 2:53 AM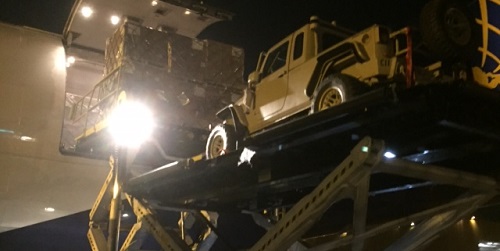 Santova is the clear choice for your mission critical defence projects. We deliver a meticulous service with defined procedures, ensuring full compliance with Global Strategic Trade Control Regulations. Santova provides clients with multi-dimensional, innovative global supply chain solutions that enable them to achieve a competitive advantage. Through our technological proficiency and client-centric approach to logistics, we are able to capitalise on our innovative global systems and processes to deliver optimal solutions.
Santova has established an Export Control Management Program and engaged experts to deliver Global Strategic Trade Control Training covering national security, foreign policy, regulatory, compliance, implementation and best practice considerations relevant to Global Strategic Trade Controls. As testament to these stringent controls and processes, Santova has built an enviable portfolio of projects and ongoing services for Government, Aid Organisations, Primes and SME's operating in Defence, Aid, Counter-terror and related industries.
As a Defence Recognised Supplier, we ensure delivery is on time, on target and on budget. We offer complex project and out-of-gauge cargo specialist services, ensuring meticulous planning, organisation, control and monitoring. As part of our service, we review country-specific ports, planned routes, bridge surveys and site reports to pre-empt potential challenges and manage them accordingly.
Quality Assurance Australian:
United States Defence Trade Cooperation Treaty - Interim Consignee
Defence Export Control Office - Registration Number 985766D
Capability Acquisition & Sustainment Group CASG - Defence Recognised Supplier
Australian Government Department of Immigration and Border Protection
Licensed Customs Broker, Corporate Membership 4030
Department of Infrastructure and Transport - Accredited Air Cargo Agent No. 093 012 901
For additional information or contact please visit http://www.austandnzdefence.com/listings/listing_details/santova-logistics-pty-ltd
Comments
LEAVE YOUR COMMENT