RF-over-Fibre Series – the future of data transmission for defence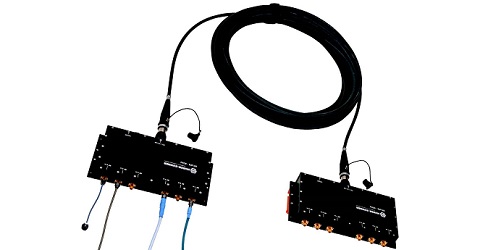 The RF-over-Fibre Series delivers all of the benefits of fibre optics in a traditional RF link. With our wide range of products and features, which include 40 GHz, low noise, WDM and optically switched solutions, HUBER+SUHNER has fast established itself as a leader in the RF-over-Fibre market.
Safety of military personnel and improving the security of communication links are critical objectives in military missions.
In order to ensure the safety of military personnel, it is important to find ways of increasing the distance between personnel and the communications equipment; and to provide solutions that support rapid deployment. Increasing the security of communication links requires technology that is difficult to intercept and that is immune to various forms of interference.
RF-over-Fibre is the ideal solution for applications that seek to increase safety, improve security and enhance overall system performance.
By enabling distances of 100km and more between communication links and by reducing the amount of cable within the systems, which supports rapid deployment, the use of RF-over-Fibre contributes significantly to the increase in military personnel safety. The security of communication links are vastly improved by the use of fibre optics, which transmits data over light, making it very difficult to intercept. The use of fibre optics also provides immunity to interferences caused by radio signals, electro-magnetic influences and lighting.
HUBER+SUHNER is one of the only companies in the world with expertise and experience in Radio Frequency, Fibre Optics and the technology to combine them for use in a single solution.
Discover more at › www.hubersuhner.com
Comments
LEAVE YOUR COMMENT