MTRRS (Mobile Tactical Retail Refuelling System) – Sovereign bulk liquid transport solutions for defence applications
MTRRS (Mobile Tactical Retail Refuelling System) – Sovereign bulk liquid transport solutions for defence applications
by Holmwood Highgate (Aust) Pty Ltd on 16/05/2023 2:35 AM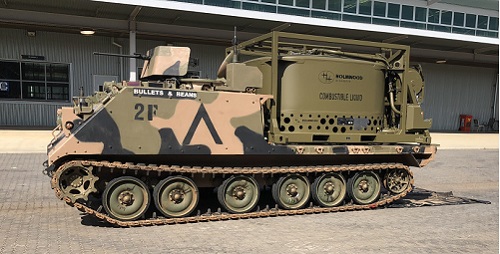 Designed and manufactured in Australia, the MTRRS range of retail portable tank solutions provide a robust and compact option for liquid transportation and retail distribution. The design remains bespoke, with the ability to be modified to suit our clients desired outcome.
Available in multiple capability of liquid, including but not limited to Aviation fuel, water, diesel and petrol. MTRRS is able to be deployed and used as either a 'range booster' for heavy armoured vehicles, on base retail refuelling and even water transport for platoons or dispatch. With its strong, durable frame, MTRRS is able to be air lifted, moved by crane, road transported and operated from the ground. Dispensing can be powered by electric pump through NATO intervehicle plugs or by gravity drain, thus enabling it for all possible scenarios.
The simple yet effective design of MTRRS means it needs only one soldier to operate, thus limiting man power required for operation. The intuitive layout of the control system and inclusion of guidance labels enable safe operation with minimal training.
From conception through to production, the MTRRS range is designed in house and produced by Holmwood Highgate, with over 70 years of industry experience in the commercial sector. Holmwood is renowned globally as the industry elite in reliable and dependable fuel transport and distribution solutions and has seen much growth globally since entering the defence sector, with awarded contracts and continued work for JP180 and Land forces 121 phase 3B and 5B.
For additional information, please consult www.holmwoodhighgate.com.au/defence today.
Comments
LEAVE YOUR COMMENT