Mobile Cooling Fan from Point Trading Group: The ultimate military solution for extreme heat conditions
Mobile Cooling Fan from Point Trading Group: The ultimate military solution for extreme heat conditions
by Point Trading Group on 22/10/2019 8:13 AM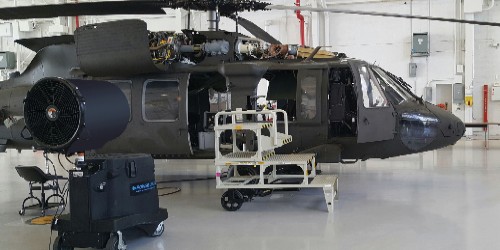 The Mobile Cooling Fan is a unique solution that provides safe and powerful cooling for operators in extreme heat climates all over the world. The compact Cooling Fan is a powerful mobile cooling unit that quietly cools workers, increasing worker safety and improving productivity – making it the ideal industrial cooling solution. The fan is capable of cooling a 3,000 sq. ft. area to about 15°C. The Cooling Fan's technology delivers only crisp, clean, fresh air without traveling through dirty filters every time. Bulky filters can attract mould & mildew that need to be replaced, incurring additional expense. Nozzles can calcify and clog. The Cooling Fan doesn't use filters or nozzles, and does not encounter this problem. Our large, open tank also makes the unit easy to clean and maintain.
The Mobile Cooling Fan is portable and can easily be run off a generator. Thanks to the 300 litre integrated water tank, this cooling unit is self-sufficient for up to 5 days of cooling and there is no need for a hose connection. This unit is rugged, mobile, and convenient for usage in all terrain and environments.
Model Types
The Mobile Cooling Fan comes in 2 different configurations. The smaller unit has an integrated water container of 150 litres, with the bigger one being twice that size. The basic functionality and operation is the same, with a few minor differences. Physical dimension and airflow, as well as weight are some of the unique differences between the two models. The technology and concept is exactly the same, which does not compromise on performance.
Industrial
Cooling stations
Warehouses
Construction sites (Indoor & Outdoor)
Glass and Metal Extrusion & Manufacturing
Rotomoulding
Assembly lines
Workshops & Machine shops
Maintenance areas
Aviation
Flight line areas – aircraft service, (re)armament, maintenance & repairs
Cargo loading/unloading
Aircraft hangars, work areas & repair
Commercial
Loading docks
Garages and Vehicle maintenance
Warehouses & Distribution Centres
Bottling & Packaging Stations
Shipping & Receiving
Outdoor event tents
Recreational areas
Use with ducting kit for directed cooling in hard to reach places
Assembly lines
Disaster Relief
Temporary medical treatment areas
Humanitarian Relief
The compact, strong, and easy to assemble Mobile Cooling Fan addresses these issues by quietly cooling large spaces. This fan has been designed for the purpose of cooling outdoor and partially covered spaces without getting troops, weaponry, or equipment wet. This energy efficient evaporative cooler is extremely versatile. It can be used to cool large warehouses, relieve personnel from heat when working or training outdoors, or as a low cost solution to augment ECUs with cool air. The Mobile Cooling Fan consumes less power than a hair dryer, it meets DOD green initiatives and is built to MIL-STD specifications.
Technology and Innovation
Combining jet engine technology with fluid dynamics, the Mobile Cooling Fan delivers the most powerful, focused, and quiet air stream available. Atomizing technology creates tiny water droplets that easily evaporate for maximum cooling. Total user control: the Cooling Fan gives users the ability to set moisture settings for climate and personal preferences. Users can control the variable fan speed and oscillation.
Built Tough
The Cooling Fan was designed for military use and meets MIL-STD 810G for Sand, Dust, Rain, Heat, Humidity. It is built to withstand the toughest climates.
Considerations taken into design for ruggedness and longevity include:
Anti-corrosive parts
No tools needed for assembly
Self-sufficient: Water tank lasts for up to 5 days of cooling
Unbelievably quiet
Mission-ready: Easy to set up and break-down. Easy to ship and deploy
Doesn't get users, equipment, or weapons wet
Recap
NO CHEMICALS
Uses only air and water. Our portable outdoor cooling system does not use any chemicals such as Freon or other coolants.
LOW ENERGY FOOTPRINT
The Mobile Cooling Fan effectively cools while consuming less energy than a hair dryer!
NO WASTE
The Mobile Cooling Fan does not use filters that would end up in the landfill.
LOW NOISE POLLUTION
According to the EPA, noise pollution can have detrimental effects on health such as stress, illness, loss of sleep, and hearing loss. The Mobile Cooling Fan falls within OSHA safety and Military regulations for daily permissible noise level exposure – even when operating at its highest setting.
More information at www.pointtrading.com
Comments
LEAVE YOUR COMMENT