Mastercut Technologies: bespoke shim boxes for defence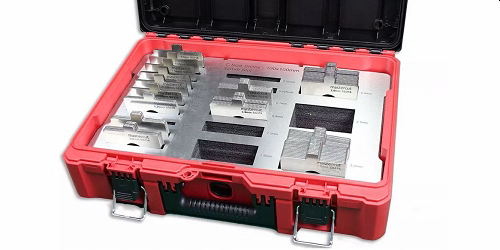 Shim Cases are available in small, medium and large and include various thicknesses as listed. All Mastercut shim cases are made from high quality 316 grade stainless steel - Material certificates are available - And are all made in Australia. All cases have extra slots for other thicknesses you may require.
Super tough Milwaukee boxes
Cases available for AB(Mixed box), C,D,E,F,G
Purchase the box only or in kit form complete with 2 packs of each shim in various thicknesses (Up to 3mm)
Laser marked with a stainless faceplate
Can be stacked - The bottom case can also be supplied with wheels for easy handling
MASTERCUT standard shim packs
In-house Mastercut manufactured pre-cut slotted shims with a tab for easy alignment of stacked shims
No burrs or sharp edges
Made of high quality USA manufactured shim stock
316 grade stainless steel (also available in grade 304 as a custom shim - contact us)
Can be shipped same day for orders placed by Midday AEST
Sold in packs of ten shims
Mastercut specialise in fabricating your precision parts from thin metals including stainless steel, copper and brass. Supplying to OEM companies in Australia, New Zealand, Malaysia, Singapore and South Africa, processes include chemical etching (PCM), ultra precision laser cutting and abrasive jet machining.
Mastercut Technologies - The One Stop Solution for all Your Thin Metal Fabrication Needs
More information on the shims inside the box can be found via www.mastercut.com.au/standard-punched-shim
Comments
LEAVE YOUR COMMENT