MAS Zengrange (NZ) Ltd offers maritime MCM and EOD capability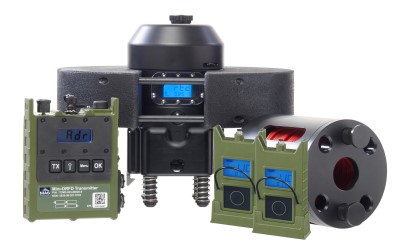 The Mini-DRFD POP π M4.0 Float System is a long-range UHF radio controlled Remote Initiation (RI) system, designed to initiate explosives and munitions in a variety of environments and operational scenarios. It uses reusable (RRx) or expendable receivers (STIX) capable of electric or non- electric initiation in both remote or timed initiation modes.
The Mini-DRFD POP π M4.0 capability provides users with enhanced flexibility when conducting explosive events above or below the waterline. Sub-surface deployments can be executed by diver or Remote Operated Vehicle (ROV), reducing the risk to operators. The stand-off capability also supports safety when dealing with high threat or unstable targets. The transmitter has a dynamic initiation ability to initiate one receiver or simultaneously initiate multiple or groups of receivers at any given time, which provides the user complete flexibility and control in the planning, preparation and execution of multiple explosive tasks. Operational flexibility is achieved through the ability to bond receivers to any transmitter allowing the redistribution of receivers supporting dynamic and agile operations.
Applications of the Mini-DRFD POP π M4.0 capability in the maritime zone are many, including salvage operations, debris removal, clearance of hazards to shipping (route clearance), force protection, Mine Countermeasures (MCM), Explosive Ordnance Disposal (EOD) and amphibious operations support.
More info www.maszengrange.com
Comments
LEAVE YOUR COMMENT