HYDAC's cutting edge operator interfaces for mobile machines
HYDAC's cutting edge operator interfaces for mobile machines
by HYDAC Australia on 25/01/2021 7:13 AM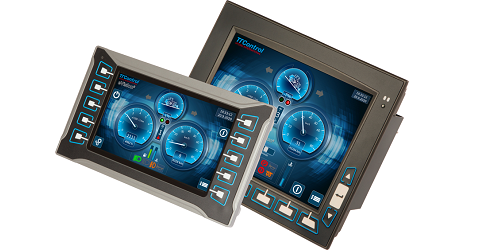 HYDAC / TTControl's HY-eVision² product family sets new standards for an operator interface with respect to maximum resolution, programmability with CODESYS® 3.x, and user friendliness, for example through the ability to display and create PDF® documents.
The modularly designed operator terminals are available in a large 10.4" variant with touch-screen (HY-eVision² 10.4) and a smaller 7" version (HY-eVision² 7.0).

Operator Interface Features
Both rugged HMI panels have a powerful built-in display controller and are perfectly suited for the harsh conditions in off-highway vehicles due to their aluminium die-cast housing (10.4") or aluminium front (7"). The operator interface devices are designed to become the central operator panel in mobile equipment such as forest harvesters, excavators or large drilling machines.
The HY-eVision² human machine interfaces act as the master within a sophisticated, networked control system, giving the operator the most ergonomic control over a maximum number of functions.
The HY-eVision² operator panel offers optimised visualization of the various in-vehicle parameters like speed, temperature and sensor data in real time.
Object oriented programming concepts allow fast and easy adaption of the HMI panel to different languages. Specific additions to the operator interface like transparency effects, graphic library and Unicode fonts, for e.g. Chinese characters, are providing the ability to fully customize the display to customer needs and to differentiate from competition. The TTControl Visualization Manager is available as CODESYS plug-in with PDF viewer and creator, camera picture support and optimized for utilizing CPU hardware acceleration. 3D effects like transparency and tilting, as well as dynamic effects like animations are fully supported by the operator interfaces.

HY-eVision² 10.4 operator interface
The TTControl HY-eVision² 10.4 product is a 1024x768 pixel 10.4 inch operator interface. Its display is characterized by low reflection and high colour saturation and provides optimal readability in any lighting conditions. Seven programmable control keys, three hard-keys and a touch-screen allow the creation of an easy-to-use human machine interface. With its aluminium die-cast housing, the HY-eVision² 10.4 is perfectly suited for harsh conditions in off-highway vehicles. It may either be mounted in the vehicle dashboard or through a RAM ball elsewhere in the vehicle cockpit.
The HY-eVision² 10.4 can display engine and hydraulic control data, as well as logging data, operator behaviour, and diagnostic information. All these data can be exported through an attached USB stick. In addition, it's possible to connect two external analog cameras which allow quick installation of a rear view system.
Features:
Picture-in-picture
USB connection
Display and generation of PDF documents
Use of vector graphics to enable portability of designs
Ability to attach 2 cameras with simultaneous video feeds
4 CAN interfaces

HY-eVision² 10.4 operator interface
The HY-eVision² 7.0 comes with an 800x480 pixel 7-inch display and 10 freely programmable keys. You can read in engine and control data, or connect a joystick through two independent CAN channels, and visualize everything in the smartest possible way.
These ARM-based terminals are programmed in CODESYS©3 like the larger HY-eVision² 10.4, and provide the same impressive graphics library. You can use transparent dials, tilt images, embed an analog camera signal or move freely in PDF documents, e.g., a user manual. These fast-booting operator terminals offer much more than most other products on the market today - including a flat, easy-to-clean IP 65 front and a separate USB connection.
The expanded list of features comprises a GPS/GSM module that also enables the use of TTControl's sophisticated remote assistance software.
Contact us now for a demonstration at [email protected].
Comments
LEAVE YOUR COMMENT