Axalta partners with Hanwha Defense Australia on AS9 Huntsman self-propelled howitzer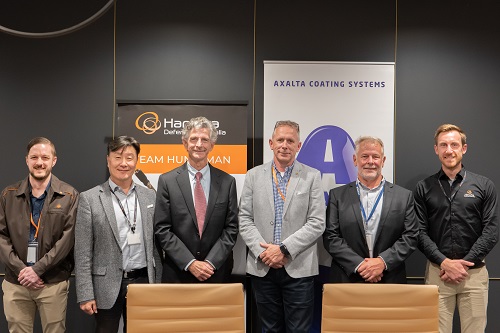 Axalta Coating Systems, a leading global coatings company, today announced that Axalta Australia has been selected as the coatings partner to Hanwha Defense Australia (HDA) for the Land 8116 Phase 1 project. This will oversee the manufacturing and painting of thirty AS9 Huntsman self-propelled howitzers (SPH) artillery systems, and fifteen AS10 armoured ammunition resupply vehicles (AARV), commencing in 2024.
Under the new contract, Axalta will support the entire supply chain for coatings for both vehicles, and provide application training, coating testing capabilities and technical support to optimise painting operations. This is the first time that Axalta and HDA have partnered together, with the contract signing taking place between Hanwha Defense Australia's Managing Director, Richard Cho, and Axalta's ANZ Managing Director, Steven Brett on February 1, 2023.
Michael Busch, OEM and Military Manager at Axalta, said "The signing of this contract with Hanwha Defense Australia provides further confirmation that Axalta understands the quality requirements, challenges and inherent risk to manufacturers supplying the defence industry. We are extremely proud of our new partnership with Hanwha and look forward to supporting them when local production begins in Geelong at the Hanwha Armoured Vehicle Centre of Excellence (H-ACE) in 2024."
Axalta's specialist military team have worked closely with Hanwha in both Australia and Korea, demonstrating Axalta's range of military coatings, specialist application training, and ongoing technical support to meet the highest standard required by the military.
Production of both AS9 and AS10 will take place in a purpose-built 32,000 sqm factory known as the Hanwha Armoured Vehicle Centre of Excellence (H-ACE) in the greater Geelong region of Victoria.
About Axalta Coating Systems
Axalta is a global leader in the coatings industry, providing customers with innovative, colourful, beautiful and sustainable coatings solutions. From light vehicles, commercial vehicles and refinish applications to electric motors, building facades and other industrial applications, our coatings are designed to prevent corrosion, increase productivity and enhance durability. With more than 150 years of experience in the coatings industry, the global team at Axalta continues to find ways to serve our more than 100,000 customers in over 130 countries better every day with the finest coatings, application systems and technology.
For more information, visit axalta.com and follow us on LinkedIn and @axalta on Twitter.
Comments
LEAVE YOUR COMMENT