AFL's tactical expanded beam cable assemblies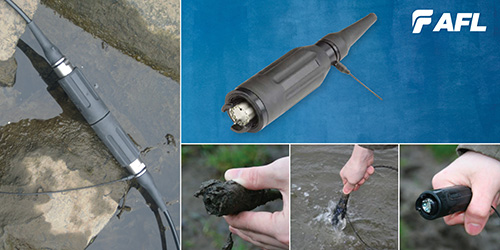 Utilising a combination of optical expanded beam light collimating connector technology and ultra ruggedised tactical cable, AFL's tactical expanded beam cable assemblies are designed to withstand deployment and operating in the harshest of operating environments.
While standard, commercial optical fibre connectors use as low as 9 micron of optical, physical contact alignment to make connections their use in external applications, particularly harsh environments becomes limited. Contamination such as dust, debris and oils make connections susceptible to poor performance and even permanent damage when used externally.
AFL's expanded beam solutions use light collimating lenses, to expand the light path to that much greater than typical contaminants minimising the impact on optical performance. Additionally, the ruggedised connector when mated provides ingress protection to guard against contamination and damage.
Being hermaphroditic and built on AFL's ruggedised tactical cable, the cable assemblies can be daisy-chained together to extend network reach and makes them an ideal solution for field deployable solutions.
For further information please visit www.aflglobal.com/en/au/products/fibre-assemblies/harsh-environment-fibre-qssemblies
Comments
LEAVE YOUR COMMENT