AFL's Sidewinder rapid cable deployment system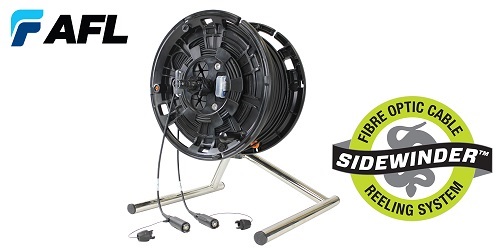 AFL's Sidewinder Rapid Cable Deployment System allows for fast deployment and retrieval of tactical fibre optic cables used in field deployment applications.
The system is made using lightweight high impact polymer that is non-corrosive and able to withstand extreme temperatures. Additionally, the reel features built-in connector storage in the centre hub as well as a folding handle for fast sidewinding action.
The unique design of the reel allows them to be stacked and locked together for transport or for field deployment. The specially engineered foam insert within the hub allows safe storage of the connectors when not in use. The reel is available in 4 sizes, to store cables up to 1000mts in length (when using 5.5 mm cable).
They can also be supplied with reel stands, connector cleaning kits and military approved transit cases.
URL: https://www.aflglobal.com/au/Products/Harsh-Environment-Fibre-Assemblies/Sidewinder-Rapid-Cable-Deployment-System.aspx
Comments
LEAVE YOUR COMMENT