Accredited certification services in select ISO standards for defence SMEs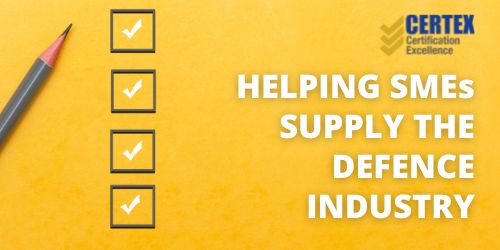 Do you need to become certified in an ISO standard? Are you worried about how much effort this might need? Do you even have the time for this?
We can't pretend that for many businesses, certification doesn't take a lot of work. But we can almost guarantee that along with the effort comes a significant benefit to your business.
Imagine being able to measure activities and performance, having clearly defined processes that everyone can follow, anticipating and mitigating the risks and threats that may come at you. Imagine working with an expert who can check over what you are doing and challenge you to do better. Imagine building your business to a point where your system runs it, not you.
To us, certification helps you achieve this.
No, we do not tell you what to do, but we can ask you if it is working for you. We can challenge you to consider better ways.
Certex are process-based auditors. We may be a rare breed as we believe that quality is in what you do and how you do it; quality is not in that dusty folder of documents nobody ever reads.
All our auditors have extensive experience in industry and/or management system auditing. Our values are to "be on your side" and to help you find ways to improve.
Like you, we are Australian owned and bred. We have been proudly supporting business across Australia and New Zealand since 2004. Our clients include manufacturing, government, engineering, consulting and other professional services.
Our services include quality, safety, environmental management, and collaboration. We are accredited with JAS-ANZ to issue certificates in 9001, 14001 and 45001, and we are working to add 27001 to the list. We conducted the very first Australian certification in 44001 Collaboration. We also offer a range of risk assessments in compliance topics that you need to know – cyber security, employment screening, privacy, migration, worker remuneration, business ethics and more. You can even turn these assessments into certification in the Talent Engagement Standard to demonstrate your compliance. These areas are critical in Defence.
Certex is committed to the Defence sector and to supporting Australian SME. We have partnered with Goal Group to present selected topics in the Defence Ready Seminar Series by Hunter Defence, and are working on a number of projects to help businesses improve.
As a small business ourselves, we understand how important it is to properly engage with our clients, to understand them and build trust. As a Certex client you will never just be a number, you will be a valued and important client who we want to see grow and succeed.
In the words of one of our clients with whom we worked with for many years:
"Certex was able to quickly and thoroughly analyse our current business systems and processes. The ongoing communication and preparation between Effective People and Dianne prior to the audit ensured that there were no surprises. This enabled us to effectively use the onsite audit to gain information on further improvements, which in turn allowed us to develop a detailed strategic plan for continuous improvement. Dianne had such a lovely and professional manner whilst conducting the onsite audit that she was able to make our staff feel at ease, which allowed them to properly demonstrate what and how they did things without feeling too nervous or pressured. At the end of the process everyone at Effective People felt a strong sense of achievement and were proud of themselves and the company."
— Effective People, Canberra
Find us on LinkedIn. Contact us to find out more.
SERVICES
JAS-ANZ accreditation certifications (M4871011AC):
ISO 9001:2015 Quality management systems
ISO 14001:2015 Environmental management systems
ISO 45001:2018 Occupational health and safety management systems
Non-JAS-ANZ certifications:
ISO 27001:2015 Information security management systems
ISO 44001:2017 Collaborative business relationship management systems
Talent Engagement Standard (TES:2018)
Medical Locum Agency Requirements, NSW Health, and Health Services Victoria
Business Compliance Review (BCR)
iSuite Risk Assessment Program:
iSafe
iPrivacy
iEngage
iRecruit
iTalent
iQuality
iEthics
iCyber
iWork
For additional information please visit www.certex.com.au
Comments
LEAVE YOUR COMMENT