Minister's Message
Australian Minister for Defence Message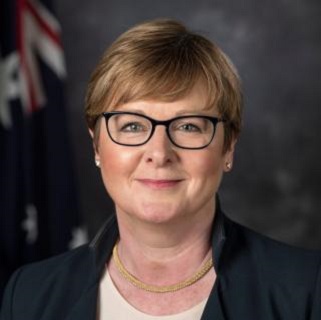 Senator the Hon Linda Reynolds CSC
Minister for Defence, Australia
The Government has recognised defence industry as a fundamental input to capability to deliver an agile, innovative, capable and modern Australian Defence Force. For this reason, strengthening Australia's sovereign defence industry is one of the Government's highest priorities.
The release of the 2016 Defence White Paper, the Integrated Investment Program, the Defence Industry Policy Statement and, more recently, the Naval Shipbuilding Plan, marks a significant milestone in Australia's strategic defence policy approach. The Government has delivered a clear long-term plan for Australia's defence, providing the certainty our defence industry needs to invest in the skills, innovation, and infrastructure required to support our future capability.
We are investing around $200 billion over the next decade to build our military capability as well as $1.6 billion in industry and innovation programs to ensure that Australian industry can capitalise on these unprecedented opportunities to support Defence.
The Australian Industry Capability Program is the centrepiece of ensuring that we maximise Australian industry involvement in the acquisition and sustainment of our defence capability. We have strengthened the requirements on tenderers to ensure that they maximise opportunities for Australian industry in their proposed capability solution, including delivering enduring industrial capability benefit, and innovation, and global supply chain opportunities.
We have established the Centre for Defence Industry Capability (CDIC) as the front door for industry into Defence. The CDIC assists small-to-medium enterprises with industry development, grants, facilitating innovation and defence business competitiveness and exports. The CDIC is helping build the supply chain knowledge and capability we need in Australia to grow and diversify our defence industry to meet today's and future capability needs.
The $730 million Next Generation Technologies Fund and the $640 million Defence Innovation Hub are designed to translate Australian innovation and research and development into capability outcomes for Defence.
The Defence Industry is our great national endeavour, and all the companies listed herein play an important role in our success.
Senator the Hon Linda Reynolds CSC
Minister for Defence
Parliament House, Canberra ACT
New Zealand Minister of Defence Message
Hon Ron Mark
Minister of Defence, New Zealand
Recent years have seen changes in the issues and priorities New Zealanders identify as nationally significant. A conversation is underway on how to prioritise the investments this Government is making on behalf of its people.
One thing is clear, our people are at the heart of what we do. Protection of our Defence Force personnel – particularly those serving overseas – is a top priority.
The New Zealand Government is focused firmly on ensuring that our nation has the ability to respond to matters of defence and security, and to maintain and enhance our ability to provide humanitarian assistance disaster relief when it is needed.
There is a range of global issues and challenges that we, along with our allies and our friends, are facing. There is an expectation, reflected in New Zealand, that we will continue to contribute meaningfully. For this to happen, a modern, well-trained and well-equipped Defence Force is a fundamental requirement.
How to achieve this was considered in depth in the build up to the release of the last Defence Capability Plan. Since 2016 this document has underpinned New Zealand's programme for upgrading our defence capability.
The programme to deliver and introduce new capability is well underway and the New Zealand Government has reinforced its broad support for the Defence Capability Plan. It will be reviewed in 2018 with the aim of reinforcing confidence that these significant projects represent the best investment in new or upgraded capabilities. We want to provide New Zealanders with the reassurance that, once made, decisions on investment will be delivered on time, within scope and to budget.
To support and enable this to happen, a strong and capable local industry base is needed. Maintaining and building trans-Tasman relationships is a core part of this.
To support industry, a portal has been created through the Ministry of Defence website (www.defence.govt.nz) through which companies and find others with common interest in projects. This portal provides companies with the opportunity to express their interest in New Zealand's defence projects. They can then use this as an avenue through which connection between interested industry groups can be fostered.
From there, the options for exploring both traditional and proven approaches to engaging with each other about projects are available, along with innovative ways of working together to deliver the capability that New Zealand needs.
Hon. Ron Mark

Minister of Defence
Parliament Buildings, Wellington NZ