Minister's Message
Australian Minister for Defence Message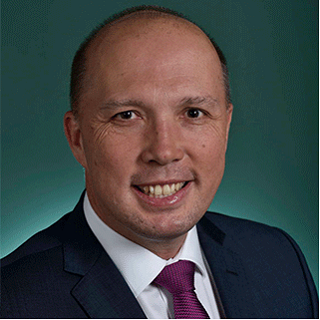 The Hon Peter Dutton MP
Minister for Defence, Australia
Australia's defence relationship with New Zealand is built on deep and mutual security interests, shared values and long-standing people-to-people ties. Our two nations share an immediate region - the South Pacific; one that is committed to a stable, international rules-based order, and a willingness to make positive contributions to global security and stability operations.
Our shared strategic interests are reflected in Australia's Step-up in the Pacific, which takes our engagement with the region to a new level; and in New Zealand's Pacific reset, announced in February 2018, to develop deeper partnerships with Pacific Island countries.
The close strategic partnership between Australia and New Zealand means that we have a mutual interest in our industrial bases working together. This collaboration is enabled by the Closer Economic Relations agreement between Australian and New Zealand, allowing New Zealand firms to be considered as part of Australian defence industry for the purposes of Australian Industry Capability. Through the Australian + New Zealand Defence Directory, this closeness will only be enhanced.
In Australia, the Coalition Government has transformed the relationship between Defence and Defence Industry through a clear, long-term plan to strengthen our defence industrial base. We are investing $200 billion in defence capability over the next decade under the Integrated Investment Program, and have recognised defence industry as a fundamental input to capability. We have identified an initial list of 10 industrial capabilities we want to develop, maintain, or enhance in Australia. Most recently, the 2019 Defence Policy for Industry Participation, which I launched as Minister for Defence Industry on 28 March this year, extends the Australian Industry Capability Program and Local Industry Capability Plan to provide greater opportunity to small and medium businesses in the defence sector.
The strong, resilient and internationally competitive Australian defence industry we are building is essential to support Australia's defence capability needs. Increasing defence exports will help our defence industry grow, and by exposing Australian companies to new benchmarks, technologies and best practice, we will drive innovation and productivity. This will ultimately increase capital to reinvest back into capability. Our Government is committed to partnering with industry to responsibly pursue and secure export opportunities, and has established the Australian Defence Export Office to lead the whole-of-government effort to achieve this.
I congratulate the Australian + New Zealand Defence Directory for this valuable resource which builds on the strong collaboration between Defence and industry.
The Hon Peter Dutton MP
Minister for Defence
Parliament House, Canberra ACT
New Zealand Minister of Defence Message
Hon Ron Mark
Minister of Defence, New Zealand
In last year's edition of the Defence Directory, I noted that the New Zealand Government was focused on ensuring our nation had the ability to respond to matters of defence and security, while enhancing our ability to provide humanitarian assistance disaster relief when it is needed.
Since then the Government has released the Strategic Defence Policy Statement 2018 and the Defence Capability Plan 2019. The Statement outlined how the New Zealand Defence Force supports the community, nation and world. A priority was the Defence Force's ability to operate in the South Pacific to the same level as New Zealand's territory, the Southern Ocean and Antarctica. This is being driven by a collection of complex disruptors, including climate change, which is testing resilience levels in our region.
Importantly, recent commitments, such as the decision to acquire the P-8A Poseidon capability, demonstrate that in thinking locally the New Zealand Government remains committed to ensuring that we can continue to make highly valued contributions internationally, including in protecting Sea lines of communication.
The Defence Capability Plan 2019 sets out in detail how the New Zealand Government intends to deliver on the policy objectives outlined in the Strategic Defence Policy Statement 2018. The Plan comes at a critical point. A number of the platforms that have given outstanding service over many decades to the community, nation and world are reaching the end of their life. Both acquired in the 1960s, the P-3K2 Orion and the C-130 Hercules will be replaced by the P-8A Poseidon and the C-130J-30 Super Hercules respectively. Decisions will also need to be taken on the New Zealand Army's vehicle fleet, the type of sealift capability we need, and how we equip our land forces to receive the information they need to be effective and interoperable in the digital age.
Significantly, capability decisions will need to consider the fundamental changes to the ways in which contemporary Defence Forces operate. For this reason, the Defence Capability Plan 2019 includes investment in space-based systems, analytical intelligence capabilities, and semi-autonomous and remotely operated technologies.
Industry is a critical partner in delivering the capabilities the New Zealand Defence Force needs and ensuring that they can be supported through-life. For this reason, the Defence Capability Plan 2019 includes a chapter on 'Working with Industry'. Engaging early with Industry will allow the Government to make informed investment decisions, based on the best information available as early in the process as possible. It will also enable Industry to plan for the future.
Hon. Ron Mark

Minister of Defence
Parliament Buildings, Wellington NZ